Author:
Patricia Perry Donovan
Publisher:
Lake Union Publishing
Release Date: May 1, 2016
Genre: Contemporary Literary Fiction
On the night of Alex Carmody's sixteenth birthday, she and her best friend, Cass, are victims of a terrible car accident. Alex survives; Cass doesn't. Consumed by grief, Alex starts cutting school and partying, growing increasingly detached. The future she'd planned with her friend is now meaningless to her.
Meg Carmody is heartbroken for her daughter, even as she's desperate to get Alex's life back on track. The Birches, a boarding school in New Hampshire, promises to do just that, yet Alex refuses to go. But when Meg finds a bag of pills hidden in the house, she makes a fateful call to a transporter whose company specializes in shuttling troubled teens to places like The Birches, under strict supervision. Meg knows Alex will feel betrayed—as will her estranged husband, who knows nothing of Meg's plans for their daughter.
When the transport goes wrong—and Alex goes missing—Meg must face the consequences of her decision and her deception. But the hunt for Alex reveals that Meg is not the only one keeping secrets.
Hmmmm. How shall I begin? In
Deliver Her
by Patricia Perry Donovan, we start off knowing of a tragedy. One that could devastate any family as well as friends - young friends that are at the very impressionable teenage years. We understand or rather we try to understand the mindset of Alex, the daughter, as well as Meg, the mother. What can be a great premise for a story with depth and intrigue lays flat and in turn falls short of the expectation one would hope based on the cover or the synopsis. After the first couple of chapters, I had to read the back cover to see if I'm getting the book at all. The description in the back gives the content of the novel much more credit. Maybe because it's shorter - giving it a concise and to the point suspense one would love to dive into. Yet, when we head into the story, even after half-way in, it was flat, with no major action nor a climatic event that gives readers a satisfaction "Ah!"
Possibly I'm expecting too much. With a book in the category of literary fiction, I'd expect a certain level of development or a certain redemptive quality, which I find neither in
Deliver Her.
The characters lack umph and pizzazz for me to root for, or even dislike. There are dislike-able characters for sure, but do I feel strongly about them? No. And then when I looked up the genre to write this review, I realized it's categorizes as a suspense novel. Nope. Not at all for me.
One aspect I might say have some element of complexity that gives it some merit, and that is the disbanding of the marriage. Seeing it almost piece by piece does create a connection of responsiveness or empathy from readers.
I think what really troubled me is the disparity of words throughout and the ineffective continuity of plot. It was underwhelming and disappointing. It may appeal to a different audience, possible those with teenagers or parents that are struggling with how to cope with marriage and parenthood at once.
Scroll on down for the chance to win a copy.
For my clean readers, there are profanity in this book.
NOTE: I received a complimentary copy of this book from the publisher, through TLC Book Tours for an honest review. All opinions expressed are my own. For my review policy, please see my
Disclosure
page.
TO PURCHASE A COPY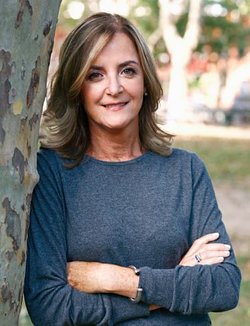 Patricia Perry Donovan is an American journalist who writes about healthcare. Her fiction has appeared at Gravel Literary, Flash Fiction Magazine, Bethlehem Writers Roundtable and in other literary journals. The mother of two grown daughters, she lives at the Jersey shore with her husband.
(1) Copy of Deliver Her by Patricia Perry Donovan
*US/Canada addresses only.


Check out the full tour schedule for more information, reviews, interviews and giveaways! Click on the image below to take you there.