Series: The Storm Siren Trilogy, Book 3
Author:
Mary Weber
Publisher:
Thomas Nelson / HarperCollins
Release Date: March 1, 2016
Genre: Young Adult, Fantasy, Paranormal Fiction
Nym and Draewulf prepare to face off in a battle destined to destroy more lives than it saves.
With the loss of Tulla still fresh in mind, Rasha's fate unknown, and Lord Myles taken over by the dark ability, Nym and the few Bron soldiers rush to warn Cashlin's queen. Only to discover it may already be too late for the monarch and her eerie kingdom. As the Luminescents are sifting through Nym's past memories and the queen is reading into her future, Nym is given a choice of how to defeat Draewulf, but the cost may be more than she can bear. And even then there are no guarantees.
With that reality burrowing into her bones—along with the guilt of the lives she will sacrifice—Nym returns to her homeland of Faelen to raise an army of peasants through promises of freedom. But when the few friends she has left, along with the world and citizens she loves, are staring down the face of a monster and his undead army, will Nym summon every element her blood is capable of controlling . . . or surrender to a different strength—one of sacrifice?
Because in the end, death may be more merciful for them all.
WHOA!!! WOW!!! First, lets just comment on how GORGEOUS these covers are. I'm nearly mesmerized by it, all of them, but then you read the stories, and you're blown away by the intensity that the covers are just the tip of it. And with
Siren's Song
, so appropriate with the rings and the green. Just perfect.
I read the full Storm Siren trilogy by Mary Weber all at once in a span of 3 days. So this review will also cover the other two novels. Storm Siren gave me the background, and the start of a romance that I am digging and friendships that had me laugh and smirk several times repeatedly. The training was fun and had me imagine the extent of creativity in this fantasy world of Faelen, Elementals, Terrenes and Uathuils. Then there's the impact of the battle of the Keep and what Draewulf is and have become had me stunned and in search of Siren's Fury right away.
Siren's Fury
continued straight off of
Storm Siren
, with a little prelude of the last moments in
Storm Siren
, and we are reminded of the choice Nym made and the cost of it. As we continue on in
Siren's Fury
, we are confronted with the thoughts of hate and trust. Will hate drive Nym to become a person she, herself have loathe and despised, or will she trust others that may have their own hidden agenda? And in turn, will compassion and love drive out demons that possessed the world and those she loves? Worlds come together in this second book of the trilogy. From Cashlin to Bron to Tulla, we ride in style (airship designed by Eogan), and be confronted with danger, action and camaraderie, a little different than what we first saw in
Storm Siren
, but nonetheless, characters we will begin to love. And with this book, as a reader, I can finally and fully see how innovative Mary Weber is! She created a new world that have no connection to our world and gave us thoughts of travel through mountains and forests. With each place, a distinction, from Luminescents of Cashlin to Terrenes of Tulla, a world of fantasy have come alive in
Siren's Fury.
And with that, we're thrown into the final installment of this epic trilogy.
In
Siren's Song,
we start off with the origin of Bolcrane, and then we continue onto the last conversation between Eogan and Nym, where one revelation came to light in regards to what Draewulf's final act will be to secure his immortality and rule. As we journey through this truly epic trilogy, we come to the conclusion of the stake Nym must face: is she willing to die to save what and who she holds dear and love? Is she willing to risk it all to save all of the Hidden Lands from evil that took claim and fought for the past hundred years for the freedom to live and be?
Nym is strong, tenacious, stubborn, loyal and faithful. She is feminine at times and ferocious with her temper at others. A formidable opponent, as well as a friend and love interest. Her easy, heart-stopping and sigh-worthy interactions with Eogan will have any reader ache for their love and cry during their times of separation. Eogan, with his own thorns from the past, will he be able to let the spark of love heal his stone heart, and come to grips with his feelings for Nym? Will he be able to let her go when the time comes? I must also mention Princess Rasha, Lord Myles, Kel and even Lady Isobel. Each character came to life with Mary's words, and it was bittersweet to have to say goodbye as the last page closed.
In all, a new world of fantasy that will remind you of
Lord of the Rings; The Storm Siren
trilogy and most notably
Siren's Song
will assure your view of war and peace, while finding truth and love that defeats all evil. Fast paced, with multiple gut-wrenching twists that will have you reaching for that box of tissues, and a romance that have you invested from the beginning. With subtle Christian principles and themes throughout, join Nym and company on the quest to rid the world of evil and bring forth the dream of freedom that the Creator had freely given all. Truly epic, and one of the best trilogy that will have you wanting more since
The Hunger Games.
NOTE: I received a complimentary ARC of this trilogy through The Fantastic Flying Book Club Book Tours in exchange for an honest review.

All opinions expressed are my own. For my review policy, please see my

Disclosure

page.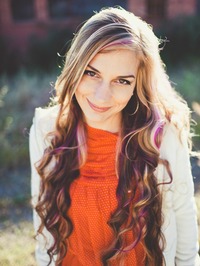 Mary Weber is a ridiculously uncoordinated girl plotting to take over make-believe worlds through books, handstands, and imaginary throwing knives. In her spare time, she feeds unicorns, sings 80's hairband songs to her three muggle children, and ogles her husband who looks strikingly like Wolverine. They live in California, which is perfect for stalking L.A. bands, Joss Whedon, and the ocean. Her debut YA fantasy novel,
STORM SIREN
and
SIREN'S FURY
are available now in bookstores and online, and SIREN'S SONG will be out March 2016 from TN HarperCollins.