Hello readers! So, as you know, I've joined several bookish box subscriptions lately, and one of them is Book of the Month (BOTM)! I was quite impressed with last month's, see the image below? Well, for my full review of last month's check out my BOTM page HERE or click on the image below.


Well, for the month of June, I'm letting you take a look at the options first, and tell me which one do YOU like. Here we go
(short descriptions from publishers on under the image)
:

Inspired by the mid-century memoirs of Frances Conway, Enchanted Islands is the dazzling story of an independent American woman whose path takes her far from her native Minnesota when she and her husband, an undercover intelligence officer, are sent to the Galápagos Islands at the brink of World War II.
From the Emmy, PEN, Peabody, Critics' Choice, and Golden Globe Award-winning creator of the TV show Fargo comes the thriller of the year.
On a foggy summer night, eleven people--ten privileged, one down-on-his-luck painter--depart Martha's Vineyard on a private jet headed for New York. Sixteen minutes later, the unthinkable happens: the plane plunges into the ocean. The only survivors are Scott Burroughs--the painter--and a four-year-old boy, who is now the last remaining member of an immensely wealthy and powerful media mogul's family.
Amid pulse-quickening suspense, the fragile relationship between Scott and the young boy glows at the heart of this stunning novel, raising questions of fate, human nature, and the inextricable ties that bind us together.
From the New York Times‒bestselling author of The Vacationers, a smart, highly entertaining novel about a tight-knit group of friends from college— and what it means to finally grow up, well after adulthood has set in.
Straub packs wisdom and insight and humor together in a satisfying book about neighbors and nosiness, ambition and pleasure, the excitement of youth, the shock of middle age, and the fact that our passions—be they food, or friendship, or music—never go away, they just evolve and grow along with us.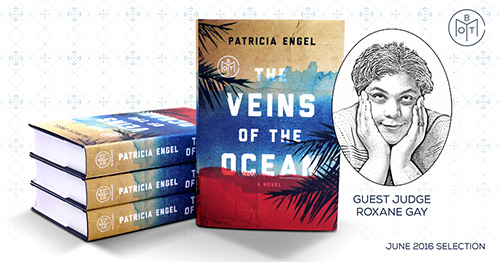 Set in the vibrant coastal and Caribbean communities of Miami, the Florida Keys, Havana, Cuba, and Cartagena, Colombia, with

The Veins of the Ocean

Patricia Engel delivers a profound and riveting Pan-American story of fractured lives finding solace and redemption in the beauty and power of the natural world, and in one another.
Shrill is an uproarious memoir, a feminist rallying cry in a world that thinks gender politics are tedious and that women, especially feminists, can't be funny.


With inimitable good humor, vulnerability, and boundless charm, Lindy boldly shares how to survive in a world where not all stories are created equal and not all bodies are treated with equal respect, and how to weather hatred, loneliness, harassment, and loss, and walk away laughing.

Shrill

provocatively dissects what it means to become self-aware the hard way, to go from wanting to be silent and invisible to earning a living defending the silenced in all caps.
In all: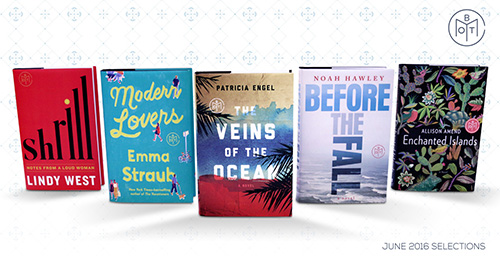 So, what do you think? What will be your pick? Interested? The June selections are scheduled to ship out on June 14th. If you want to join in on the fun for any of the above books, be sure to sign up by June 14th, (best to do so before).
And as promised from the title of this post, use code SUMMER30, to get 30% off a 3-month subscription plan through June 30, 2016. Just click on the image below.
<
Summer Savings UPDATE:
When they join between 6/10 - 6/30, Book Of The Month will give new subscribers:
☼

$5 off

their 3-month subscription

☼ an exclusive Book Of The Month

beach bag

and

☼ custom

sunglasses

!
Use code
SSK5
when you sign up for their 3-month subscription between 6/10 and 6/30
- - - - - - - - - - - - - - - - - - - - - - - - - - - - - - - - - - - - - - -
Personally, I think BOTM is quite a service. I love the choices from guest curators and the prices are very good for a new release hardback.

Here are the plan prices:



1-month plan = $16.99 per month

3-month plan = $14.99 per book, or

$44.97

12-month plan = $11.99 per book, or $143.88
And with the 30% Off, what a STEAL!
Well, go and enjoy!
**This post contains affiliate links and I will be compensated if you make a purchase after clicking on my links.