I'm excited to have Jill Lynn here on Just Commonly today! It's her first time, so give her a nice warm welcome!! 👏 And it's her Book Birthday too!
*NOTE:
This post contains affiliate links.
Jill Lynn is an author of contemporary inspirational romances. Her newest release, Her Texas Cowboy, is in stores now. She has a bachelor's degree in communications from Bethel University and lives near the beautiful Rocky Mountains with her husband and two children.


1.

Hi Jill! Welcome to Just Commonly! Happy Release Day! Can you tell us a bit about you, as Jill?
Well, I'm kind of a hot mess. 😊I tend to not know when my kid's projects are due at school and my friends will text me when something is happening, because odds are I don't know anything about it. I want to be organized and together, but it rarely happens that way.
2.

How about you as Jill, the writer?
I'm not a super fast writer. I usually set a word count for the week, and I'll map out a goal for having a rough draft finished. I'm actually not a procrastinator when it comes to writing. I never was in school either. I like things done with plenty of time to spare so that it can simmer and I can come back to it later. I really like to write humor into my stories if at all possible, because to me, life is better when you're laughing.
3.

What can you tell us about the types of books you write?
I write small-town happy-ever-afters. I like quirky characters and themes of family and friendship.

4.

Specifically, 10 words to describe the feature book, Her Texas Cowboy?
Family. Misunderstanding. Relationships. Siblings. Reunion romance. Wounded hero. Stubborn heroine.

5.

What was your inspiration? How did this story come about?
Rachel was a snarky teen in Falling for Texas, the first book in my Texas series, and while I loved her then, I wanted to write a redemption story for her. I had to! She deserved her own book. 😊

6.

Can you tell us a bit about each of your main characters?
Rachel lost her parents when she was thirteen. She's tough and has her walls up, but she's also sweet on the inside. She believes she's stuck in the reputation she earned as a teen, but she's come a long way and is now helping teens.
Hunter has family issues of his own. He's loyal and likes the small-town life. The opposite of Rachel, who can't wait to get out of town. He's always had a soft spot for Rachel, and he gets her in ways other people don't.
7.

You know, I've been waiting for Hunter's story since Her Texas Family and that's since 2016. Tell us, have you always had his story in mind or it was because of the overwhelming fans he received since Her Texas Family?
From my first brainstorming, I always thought of these books in a series of three. I definitely wanted to write Rachel and Hunter's story, but this book did not come easily to me. At one point, I almost scratched writing it and moved to a new series, but it wouldn't let go of me. I couldn't give up on Rachel's story. Eventually it came together. I handed it in. And then it got bumped on the schedule and pushed out to 2018. Needless to say, I'm so glad it's finally in reader's hands. 😊

8.

Have there ever been a part of the story that you felt you had to write and expand on as you were writing (without any premeditation what so ever)?
There's some hard backstory in this book. Reasons for my character Hunter to believe the way he does. I worked hard to flesh that out and even create some understanding for one of the characters off the page. I'm sure this all sounds like gibberish, but after reading it and knowing the ending, this explanation should make more sense. 😊

9.

What do you want readers to come away with after reading Her Texas Cowboy besides a few hours of total enjoyment?
I think we all learn differently, and if the reader can pull a life lesson from fiction, then I'm all for that. But yes, laughter and maybe even a few tears—a few hours of escape from our hard world. That's what I hope to provide.

10.

Is there a character in Her Texas Cowboy that you just grew to love, but didn't so in the beginning?
Hunter's father. He's a hard man, but I think he's still lovable. Especially once he's understood.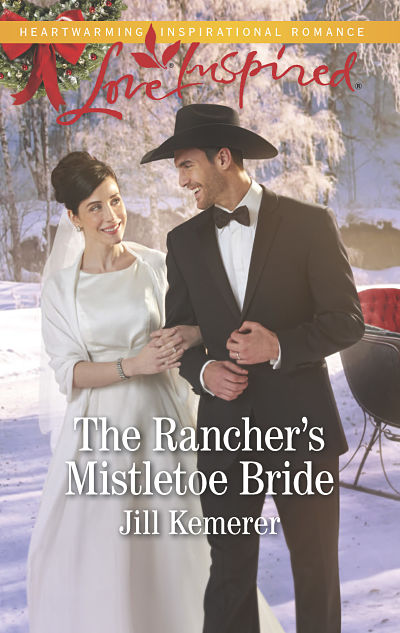 11.

Character visits! Which book/story (not your own) would you think make a great connection for your characters if there's such a thing as book jumping?
Hmmm. I think I'd send my characters over to Jill Kemerer's The Rancher's Mistletoe Bride. I think my small-town characters would get along well with hers. And the guys could talk ranching. 😉

12.

And which character of a book will you think would make a great "faraway best friend" to one of your characters and to which one?
I think Hunter would get along well with Ty from Becky Wade's Meant to be Mine. I could definitely see the two of them hanging out. 😊

13.

So what can we expect from you next?
I'm excited to share that I have a new Colorado Grooms series coming up, and the first book—The Rancher's Surprise Daughter—will be out July 20th, 2018.

14.

Will there be another story that connects a bit, but still read as a standalone as it was with Falling for Texas, Her Texas Family, The Start of Us and Her Texas Cowboy?
Sadly, this is the end for these characters. Wahh! I'm not quite ready to let them go!

15.

Let's chat a bit more about you. What book or books are on your nightstand currently?
I've been reading on my Kindle lately. I just finished a sweet novella from my friend Jessica Patch called Hope Under Mistletoe. And Short-Straw Bride by Karen Witemeyer. Next up is non-fiction—Girl, Wash Your Face and then a book I actually won from Amy Matayo in a giveaway (I never win anything!)—Love Gone Wild.



16.

If you had to choose 1 book you've read this year so far that is an absolute must read, what would it be?
The Gifting Series by Katie Ganshert. I devoured all three books in about a week.



17.

For first time readers of your books, which one would you suggest to them to get to "know you" as writer?
I like to read in order, so if someone is like me, I'd say Falling for Texas. But I think my writing style is best represented in Her Texas Family or my novella, The Start of Us. I had a ton of fun writing those two stories!

18.

And last and a fan favorite, please give us 5 random facts about you.
I grew up in Minnesota.
I must have a cup of coffee first thing when I wake up in the morning.
My mom is the greatest prayer warrior I know.
My laugh is quite loud, and if we're watching something funny after the kids have gone to bed, I'm always afraid it's going to wake them.
I love the mountains in Colorado, but I would trade them in for a beach in a heartbeat.
Thank you, Jill for stopping in! I love your stories and I look forward to many more!! Thank you!!
Release Date:

April 17, 2018
The sweetest reunion in Texas...
When Rachel Maddox returns to her hometown of Fredericksburg, Texas, avoiding her ex is much easier said than done. Still nursing the broken heart Rachel caused years earlier, rancher next door Hunter McDermott figures he can be cordial for the brief time she's in town--maybe they can even be friends. But how do you forge just a friendship with someone you've always pictured as your bride?
Jill is hosting a
Her Texas Cowboy
prize package giveaway for her newsletter subscribers. All you have to do is sign up for a chance to be entered to win. Easy peasy.
www.Jill-Lynn.com/news
U.S. shipping only. ("Sorry my international friends! But I often do ebook giveaways on my social media sites that are open to all, so keep an eye on my social media pages for that." - Jill)
*NOTE:
This post contains affiliate links.