"A contemporary Shakespeare-inspired YA from a fantastic new author couple! What's it like to play the understudy in your own love story?" - Always Never Yours
Favorite Classics that Inspires My Writing
by Emily Wibberley & Austin Siegemund-Broka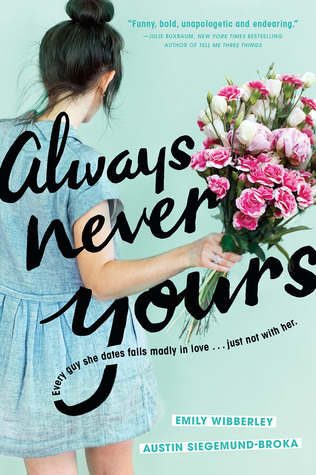 Obviously, we are both huge readers of YA. It's hands-down our favorite genre. That said, the classics hold a very special piece of our hearts, and Always Never Yours is truly a tribute to our literary loves.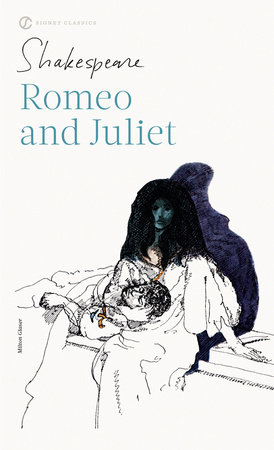 Considering Always Never Yours is drawn from Romeo and Juliet, it'll surprise nobody to know that Shakespeare is our greatest inspiration. The idea for ANY emerged during one of our (very frequent) Shakespeare dinner conversations. We were talking about Rosaline, a character from the play who never appears on the stage, who is the object of Romeo's adoration up until the moment he sees Juliet. We couldn't help wondering how Rosaline's life would be shaped by the events of the play. Then we figured there are Rosalines everywhere in our world—girls who are the girl before an epic love story. That's where Megan was born.
Aside from the direct inspiration of R&J, though, Shakespeare and his other plays are hugely important to us and how we aspire to write. In all of Shakespeare's plays, we're given characters full of such rich interiority that they're performed again and again, resonating with audiences across centuries because of how perfectly they embody the complexities and conflicts of humanity. In Macbeth, we're given an antihero who is torn between his deep loyalty and the secret ambition he harbors, in Hamlet a man who is desperate for answers but fearful of taking action toward finding them, and in Romeo and Juliet a pair of young lovers whose immaturity leads them into ill-fated and thoughtless love and yet whose immature love transcends barriers and subverts the "maturity" of their elders. Shakespeare's characters are full of the perfect contradictions that make them much more than words on a page.
The other master who we find ourselves returning to time and again is Jane Austen. Pride and Prejudice, Emma, Sense and Sensibility, Northanger Abbey—these are books that sparkle with incisive wit so clever you never know if Austen is laughing with or at you, or, more often, both. When it comes to writing a romance, there is no better template than Pride and Prejudice. This novel was published 200 years ago, and yet it perfectly predicts the pace and archetypes of modern romances. We heard it said once that every rom-com is either Emma or Pride and Prejudice, and there is undeniable truth to that. Our Megan wouldn't be who she is without the sharp tongue of Emma Woodhouse or the playful wit of Elizabeth Bennet. Like Shakespeare, Austen created characters with a depth and complexity that transcends time. And need we discuss banter? Austen is the nonpareil. We return to it constantly when crafting our own.
Shakespeare and Austen are our pillars, but there are dozens of other classics writers we draw inspiration from. Victorian literature in general—Middlemarch, Vanity Fair, Wuthering Heights, Great Expectations—is particularly inspiring. This is a genre defined by the epic and the tragic as not only the purview of heroes and battlefields, but the everyday. Eliot wrote of "keen vision and feeling of all ordinary human life" and "the growing good of the world… dependent on unhistoric acts." When writing YA contemporary, there is nothing more fitting.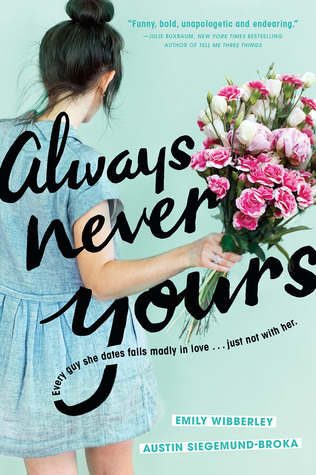 Title:
Always Never Yours
Author:
Emily Wibberley & Austin Siegemund-Broka
Publisher:
Penguin Random House for Young Readers
Release Date: May 22, 2018
A contemporary Shakespeare-inspired YA from a fantastic new author couple! What's it like to play the understudy in your own love story?
Megan Harper is the girl before . . . just like Rosaline from Romeo and Juliet. Every one of Megan's relationships has ended the same way--her ex replaces her with someone perfect. But instead of crying over every breakup, Megan spends her time on her two passions: pursuing her next fling and directing theater. She hates the spotlight, and she's hoping to fulfill her college program's acting requirement in the smallest role possible. But then Megan's theater teacher casts her to play none other than Juliet in her school's production of Romeo and Juliet--and she meets Owen Okita, an aspiring playwright. In exchange for Megan's help writing a play, Owen agrees to help Megan catch the eye of a hot hipster stagehand. Between rehearsing and contending with her dad's plans to move with Megan's pregnant stepmom to New York, Megan begins to realize Owen-- thoughtful, unconventional, and utterly unlike her exes--might be the Romeo she never expected. Better yet, with him, she might finally be a Juliet.
ABOUT THE AUTHORS


Raised by a school librarian, Austin's always had a passion for books, especially books for young people. He met and fell in love with Emily in high school and went to Harvard University for undergrad. He studied English (focusing on Shakespeare) and graduated magna cum laude in 2014. Recently, Austin worked as a journalist for The Hollywood Reporter and was a UCLA law student; however there's nothing he he loves like writing with Emily. Emily, whose parents are screenwriters, has loved writing and story-telling since an age she hardly remembers. Since meeting Austin (she says it was middle school--accounts vary), Emily attended Princeton University for undergrad, studied psychology, and graduated magna cum laude in 2014. While at Princeton, she wrote the first novel in her self-published YA fantasy trilogy, The Last Oracle, which was featured in USA Today and was a finalist for the Next Generation Indie Book Awards.
CONNECT WITH AUSTIN & EMILY:
*NOTE:
This post contains affiliate links.