Let's welcome back Jill Kemerer to Just Commonly! I'm just in love with the cover of her latest release, Reunited with the Bull Rider, and intrigued by the "bull rider!"


*NOTE:
This post contains affiliate links.
Jill Kemerer is an author and freelance writer. A multi-published inspirational romance novelist with Harlequin Love Inspired, Jill also writes nonfiction books, blogs, and articles. Her essentials include coffee, M&Ms, a stack of books, her mini-doxie, and long walks outdoors. She resides in Ohio with her husband and two almost-grown children. Please visit her website, jillkemerer.com, and sign up for her newsletter.
1. Hi Jill! Welcome to Just Commonly! How would you describe yourself?
I'm so excited to be here—aahh! How would I describe myself? Hmm…quirky, easy-going, a chocoholic and coffeeholic, an animal lover, spiritual, addicted to reading, and I often have an inappropriate sense of humor.
2. How would your characters describe you?
Ooh, you ask good questions! "Jill Kemerer? The nice lady in yoga pants who always has a coffee in her hand."
3. What can you tell us about the types of books you write?
I write sweet, Christian romance novels with plenty of emotion, a bit of humor and a ton of faith.
4. How about more specifically, Reunited with the Bull Rider?
In Reunited with the Bull Rider, Nash is a retired professional bull rider who becomes an instant daddy to the neglected little sister he never knew he had. He returns to Sweet Dreams, Wyoming, to raise Ruby. His ex-girlfriend, Amy, is paired through the church's mentor program to help the four-year-old girl. Both Nash and Amy have to put aside past hurts for Ruby's sake, and in the process, they realize they might be right for each other after all.
5. Why a bull rider? Where did that come about?
Nash and the other heroes in the Wyoming Cowboys series didn't have a stable home life. The rodeo found him at a young age, and he liked the challenge of riding bulls. Now that he's retired from the sport, he's conflicted about his bull riding days. He forces himself to come to terms with his childhood by examining why he competed. I was surprised when the story ended!
6. My Darcy recently got tune into a bull riding contest on TV and was intrigued by the stamina and strength for the rider to even just hold on! Do you think there's something said about being a bull rider and taking that chance in life?
YES! I do. It's one of the most dangerous sports in the world for a reason. I can't speak for all bull riders, but Nash had something to prove to himself. If you research the sport, the injuries are heart-breaking. I wanted to show the reality of that in the book, too.
7. Can you tell us a bit about each of your main characters, Amy, Nash and Ruby too?
Amy is the girl you want to be your best friend. She's caring, compassionate, creative and kind. She owns her own quilt shop and finally got the nerve to submit her portfolio of fabric designs to fabric companies. Her deepest desire is to have a husband and family, but she's afraid it will never happen.
Nash is funny, loyal and brave. He didn't hesitate to step up to raise Ruby, and he's never met a bull he wasn't willing to ride. His one regret is how he left Amy. He knows he doesn't deserve her, and he's blown away that she's even willing to help Ruby, given how he left a decade earlier.
Ruby tugs at your heart. Just four, the tiny blonde suffered neglect and emotional abuse from her drug-addicted mother. Instability and hunger have been a constant in her life. She needs Nash. She needs Amy. And whenever I think of the little cutie, I get teary!
8. I must admit, I was never really fascinated with the rodeo and really know not much about it, except what I read in books. What aspects of the rodeo are you interested in?
It's not something I spend my weekends watching, either! But I'm drawn to the strength and resilience of the men and women who compete.
9. How difficult was it to do research for Reuniting with the Bull Rider?
Research is NEVER difficult for me! I adore diving into a topic—any topic. The only problem is knowing when to stop. I could spend weeks researching every book…
10. What is it about second chances do you think make such a compelling story for readers?
I think most readers can relate to being rejected. I'm sure some people have never been dumped, but most of us have. Plus, it's hard to get over your first love.
11. Have there ever been a part of the story that you felt you had to write and expand on as you were writing (without any premeditation what so ever)?
Yes, in this book I hadn't anticipated Hank's influence on Nash's life. As I wrote the story, I struggled to keep Hank true. The man was an alcoholic, a compulsive gambler, and, at times, abusive, but he was also the one person who cared about Nash as a child and showed it. He had huge flaws—and Nash still loved him. Their relationship was deeply flawed. But it was also deeply rewarding. I hope I did them both justice.
12. Everyone will read a book and come away with something different. When you wrote Reuniting with the Bull Rider, what aspect or message of the story held onto you even after the final draft submitted?
Sacrificial love. This book is all about it. Every relationship in the story revolves around sacrificial love to some degree. It is the favorite book I've written.
13. Is there a character in Reuniting with the Bull Rider that you just grew to love, but didn't so in the beginning?
Yes, Hank, and he isn't even alive! And he's got all these terrible things going for him. But I saw him through Nash's eyes, and I couldn't help it, I loved him, too. I wish I could have helped him. He would have loved to see Nash's success.
14. Character visits! Which book/story (not your own) would you think make a great connection for your characters if there's such a thing as book jumping?
Ooh, this is good! Let's see…Becky Wade's Meant to Be Mine features Ty Porter, a professional bull rider, too! I loved that book. I'd start with that one.
15. And which character of a book will you think would make a great "faraway best friend" to Ruby, a child traumatized at such a young age?
I think Ruby would have loved Heidi, the swiss girl from Heidi. She, too, knew hunger and had to adapt to new environments. Heidi would have been a great big sister!
16. What would you recommend to parents or guardians when they need help with a similar child like Ruby?
Patience, love and understanding.
17. Without giving away any spoilers, can you share with us your favorite part or line(s) in the story?
Ruby ~ "Will you take me over to Miss Amy's? I have all my best things. I'll give her all of it if she'll stay."
18. Let's chat a bit more about you. What book or books are on your nightstand currently?
Jessica R. Patch's Dangerous Obsession! Aaah! I love her books!
19. If you had to choose 1 book you've read this year so far that is an absolute must read, what would it be?
Only one?? No fair! Okay, I'm throwing this one out there because it's super old (published in 1915) and incredibly witty. Dear Enemy by Jean Webster! I loved it! The entire book is a series of letters. I laughed throughout. It's a gem.
20. For first time readers of your books, which one would you suggest to them to get to "know you" as writer?
Hmm…that's tough. From my perspective and early reviews, Reunited with the Bull Rider, is my best work. But my third novel, Her Small-Town Romance, is the book I'd point readers to next. I don't know why, but that one just was very authentic to me.
21. What can we expect from you next?
The third book in the Wyoming Cowboys series, Wyoming Christmas Quadruplets, releases in October and shows Marshall's journey to love. I'm so excited about it!
22. And last and a fan favorite, please give us 5 random facts about you.
I work out to DVDs 3-4 times a week. They're not new ones, either. I do The Biggest Loser's Boot Camp (I refuse to go past the easy level, though), Rodney Yee's Daily Yoga or Kathi Smith's Lift Weights to Lose Weight.
Lately I'm obsessed with caramels. Hence the workout DVDs…
Animals like me. And I like them.
I love day planners. It takes me weeks to decide on the perfect planner to buy. I'm really, really picky about my planner.
I'm a thrift shopper. Consignment shops and thrift stores rock my world!
Thanks so much for having me today!
Thank you, JILL for stopping in! I'm looking forward to more stories from you!!

Be sure to scroll down for giveaways!
Series: Wyoming Cowboys, Book 2
Goodbye rodeo, hello hometown. But is this Wyoming Cowboy ready to face his past?
Amy Deerson wanted to mentor a child. Her plan did not include former bull rider Nash Bolton—the little girl's brother and guardian. It's been a decade since Nash left town without a word, breaking Amy's young heart. Now they must put their painful past aside to help fragile, traumatized Ruby. If only getting over their first love were that simple.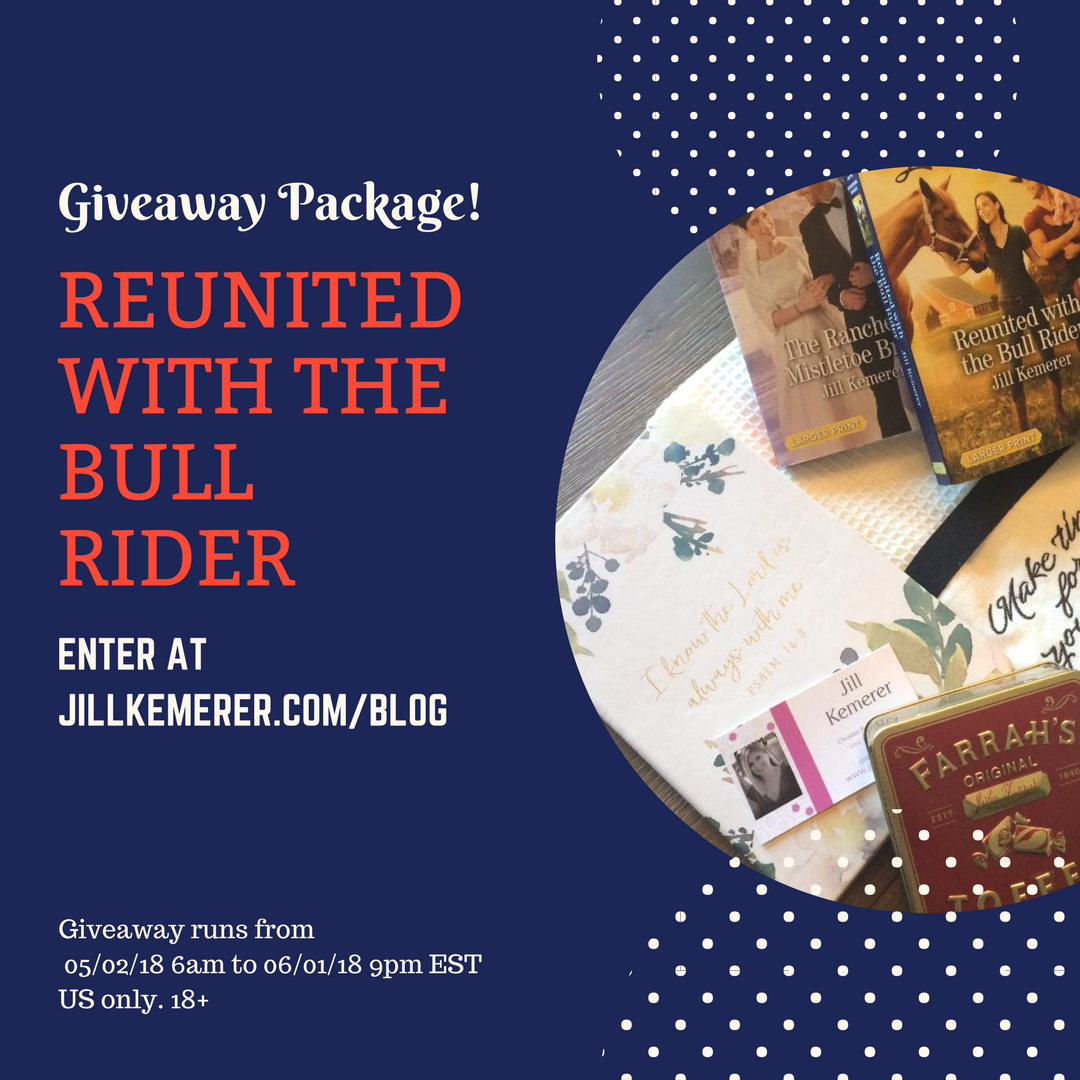 Jill had also gracious offer one reader a copy of Reunited with the Bull Rider. Just enter below. US mailing addresses only. Thank you!
*NOTE:
This post contains affiliate links.