"There's a story there. Waiting for me. I can feel it.
I can't explain why; it's just there in the silence"
Title:
The Lost Castle
Series: The Lost Castle, Book 1
Author:
Kristy Cambron
Publisher:
Thomas Nelson & Zondervan Fiction
Release Date: February 6, 2018
A thirteenth century castle, Château de Doux Rêves, has been forgotten for generations, left to ruin in a storybook forest nestled deep in France's picturesque Loire Valley...
Ellie Carver arrives at her grandmother's bedside expecting to find her silently slipping away. Instead, the beloved old woman begins speaking. Of a secret past and castle ruins forgotten by time. Of a hidden chapel that served as a rendezvous for the French resistance in World War II. Of lost love and deep regret . . .
Each piece that unlocks the story seems to unlock part of Ellie too—where she came from and who she is becoming. But her grandmother is quickly disappearing into the shadows of Alzheimer's and Ellie must act fast if she wants to uncover the truth of her family's history. Drawn by the mystery surrounding The Sleeping Beauty—a forgotten castle so named for Charles Perrault's beloved fairy tale—Ellie embarks on a journey to France's Loire Valley in hopes that she can unearth its secrets before time silences them forever.
Bridging the past to present in three time-periods—the French Revolution, World War II, and present day—The Lost Castle is a story of loves won and lost, of battles waged in the hearts of men, and an enchanted castle that stood witness to it all, inspiring a legacy of faith through the generations.
The Lost Castle by Kristy Cambron has quite the story - or rather stories to tell. Stories interwoven, casting a light to each other, it's a split-time novel that illuminates. One can really get lost in the beautiful prose the author crafted, from visual imagery of settings, to the nuances of emotions, The Lost Castle is exquisite.
"How could such luxuries of the heart survive when death remained such a cruel provocateur?

"
From present day to the turbulent times of the Second World War to the French Revolution, each with a distinct voice, each with its own struggles to endure, but tying them together is the mystery and enchantment of one castle, Château des Doux-Rêves.
"Crumbling walls were rare, beautiful things. They could display vulnerabilities without shame, for they'd already proven their worth in surviving generations-deep fractures and a multitude of fallen stones.

"
Beautiful and courageous as it stood the test of time, holding onto the secrets within, but still drawing close the ones that survived. With faith throughout, The Lost Castle also emanates with the thought and the feeling of hope, while readers let their emotions bind closely with our characters. A story read, a story endured, a story written, and a story that also moved us at some point.
"They'd been tossed together by a story and. . .isn't that what a story should do? Change us in some way?

"
It's hard to pick a time period of The Lost Castle I loved the most, since all made me feel. I will say I find I connected with Ellie's story the most, compelled by Aveline's to continue on and touched deeply by Vi's. Each distinct, and each riveting and together, The Lost Castle held their stories, and revealed them with a bit of enchantment. In all, a story not to be wasted.
"The story we're writing in this life, day by day, it's a gift from God and we can't afford to waste a moment of it.

"
Disclaimer: I received a copy of this book from the author/publisher. I was not required to write a positive review, and have not been compensated for this. This is my honest opinion.
ABOUT THE AUTHOR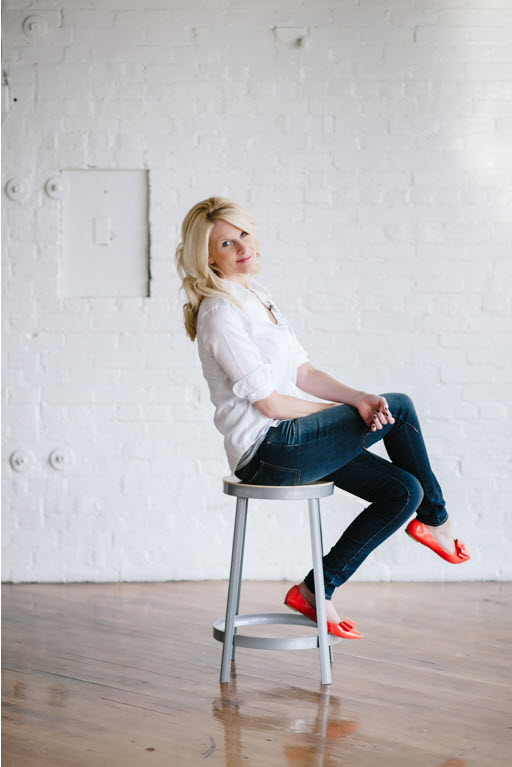 Image from KristyCambron.com
Kristy Cambron
fancies life as a vintage-inspired storyteller. Her debut novel, The Butterfly and the Violin, was named to Library Journal's Best Books of 2014 and nominated for RT Book Reviews' Choice Awards Best Inspirational Novel of 2014 and for the 2015 INSPY Awards for Best Debut Novel. Her second novel, A Sparrow in Terezin, was named Library Journal's Pick of the Month (Christian Fiction) for February 2015 and a Top Pick for RT Book Reviews. Kristy holds a degree in Art History from Indiana University. She lives in Indiana with her husband and three young sons.
CONNECT WITH KRISTY:
Website | Facebook | Twitter | Pinterest | Instagram
I'm giving away a copy of The Lost Castle to one lucky winner! Enter using the Rafflecopter form below. (Sorry, due to shipping, US Only for a print copy, and INT for an ebook through Amazon.)
*NOTE:
This post contains affiliate links.