Do I have something fun for you! Mightier Than the Sword is an INTERACTIVE middle grade novel that brings you everything story can bring, but also great fun elements to spark the kids' creativity! I have the authors, Drew Callander and Alana Harrison here for an interview!
*NOTE:
This post contains affiliate links.
First, a bit about the book itself!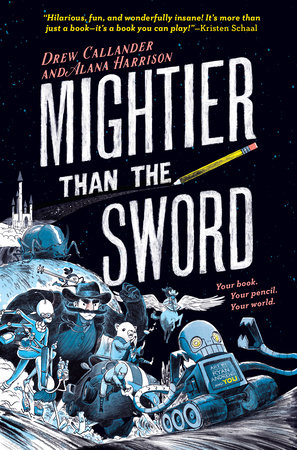 Mightier Than the Sword
Wildly funny and inventive, this interactive book pulls you, the reader, into the action. Yes, YOU!
You wake up in the fictional land of Astorya, where stories from our world come to life. You're a real human being (we assume), and in this fictional world, that makes you a superhero. Armed with your trusty pencil you have the power to create: what you write, draw, or scribble in the book becomes part of the story!
Only you can rescue Prince S. from the evil Queen Rulette. Aided by the Couriers--a French stoat with dangerous dance moves, a giant dung beetle, a fire ninja, a Pegasus-centaur-cowgirl and a super-intelligent femalien chameleon--you must write, draw, and puzzle your way through a hilarious adventure that is unique to every reader! And most importantly, you must prove that the pencil is mightier than the sword.
Authors:
Drew Callander and Alana Harrison
Illustrator: Ryan Andrews
Publisher:
Penguin for Young Readers / Penguin Workshop
Release Date:

July 10, 2018
Genre:

Young Readers / Middle Grade
Interview with the Authors
What was your inspiration for Mightier Than the Sword?
We wanted to write a book that made kids feel like they were part of the story. But more than just part of the story, like they were driving the story along rather than just reading it. We also both love the movie Who Framed Roger Rabbit? There's a part where the main character goes to Toon Town. He's a real human being interacting with cartoons. The cartoons can't get hurt, but he's real. So he can actually die. We thought it would be awesome to have that same kind of manic energy in a book where you, the reader, get to interact with fictional characters.
I don't quite understand the interactive part of Mightier Than the Sword. Can you explain a bit about that part for us?
In Mightier Than the Sword, you find yourself in a fictional world where everything was written by a real human being. So you're a real human being in a fictional world. That means everything you write comes to life. The story asks the reader to actually write in the book. There's a part where a couple of evil robots are chasing you, so you come up with a monster to defend you from the robots. It's like Mad-Libs. We supply the outline and the reader puts in his or her own ideas. You write up a giant [NOUN]. It could be anything, a giant potato, a giant moth, a giant tax return, anything the reader wants. There are also parts where you have to solve puzzles, like find your way out of a maze, unscramble words, even play hangman.
What's your goal in creating a story that builds on kids' imaginations?
We want kids to get away from screens. There are so many screens in our lives these days. Phones, computers, self-checkout terminals at supermarkets. Childhood is a magical time when people encourage you to read. Wouldn't it be great if that continued throughout your life? Too many of us (adults, that is to say) only read snippets of things we see online. Reading is a luxury very few people have time for. So we hope to lure kids away from screens with a book that's interactive and fun, like a video game. It's like a video game that unfolds in your mind. And we hope that after reading Mightier, kids will want to read and write and draw more. If there are any kids reading this, take our advice: get away from the screens! You'll have plenty of time to interact with screens when you're grown up. Too much time! Don't miss this opportunity! You're only a kid once! Of course, you're probably reading this on a screen, so maybe finish the blog post and then get away from the screens.
When Mightier Than the Sword came into fruition, was it hard to find an illustrator that matches your ideas?
We were very lucky that Penguin Random House found Ryan Andrews. When we saw his illustrations, we were like "YESSSSS!!!" Because we had done rough illustrations for the book and it was like he saw what we were going for and made them so much better. He's really good at visually telling a story. You can see it in the way he poses his characters or the way he sets a scene with who's in the foreground versus the background, or what angle the action is seen from.
Will there be more to this story? Will it become a collection for kids to follow along?
Oh yes! The sequel to Mightier comes out in 2019. So there will be more adventures starring you, the reader, in a fictional world. Beyond that, we can't say. Will there be more Mightier books? We hope so. It's a story that could go on forever. Like a never-ending story. Hey, that would be a good title for a book about a fictional world!
Was there ever a book you read at a young age that you "interacted" with imaginatively? What book was that?
Drew: We loved the Choose Your Own Adventure books when we were kids. I remember really liking a couple called The Cave of Time and UFO at 54-40 (I think that's what it was called, 54-40 referred to the latitude and longitude where said UFO appears). I remember writing my own Choose Your Own Adventure in 3rd grade. It was called "The Cave of Death." And there was only one way to get the good ending, all the other ones resulted in, well, you can guess from the title.
Alana: My favorite Choose Your Own Adventure was Underground Kingdom. It had a diagram of the world that was wrapped around the inside of Earth. I was fascinated by it. I remember musing for hours about there being an upside-down world just under the crust of ours. Come to think of it, that must have been what inspired the design of the GPS in Mightier. I also loved Mad-Libs. We played them on the back of the bus. I rarely could read through them without collapsing in a fit of laughter – the kind where you just shake and the laughter escapes in gasps.
What can we expect from you next?
More books! And we're hoping to make some web cartoons for Mightier. The first will probably just be an introduction to the book. But the ones we are really excited about will feature different characters from the book, like outtakes from Banjoe's open mic set.
Any book recommendations for fans of Mightier Than the Sword?
We both recently reread the Chronicles of Narnia, which we loved as kids. It still holds up today. If you like Mightier, you'll be sure to like The Phantom Tollbooth, which is another pun-fueled romp through a fictional world. The Pseudonymous Bosch books have a great snarky tone that we enjoy as well. And if you're into talking animals like Manteau, of course, Charlotte's Web.
Alana Harrison
and
Drew Callander
have spent their lives telling stories and cracking jokes. Alana graduated from The College of William and Mary with a degree in Comedic Writing and Performance. Drew graduated from Northwestern University with a degree in Fiction Writing. Together they have created cartoons and short films with Jon Stewart, Conan O'Brien, John Oliver, and Kristen Schaal. Their work as writers and improv comedians has aired on Sirius XM Radio, NBC, and Comedy Central. Mightier Than the Sword is their first full-length middle-grade novel. They live with their baby daughter and exquisitely talented cat (neither of whom help with the dishes).
Ryan Andrews lives in the Japanese countryside, with his wife, two kids, and their dog, Lucky. A friendly Kodama or two have been known to take up residence in the giant acorn tree that shades the house. Ryan often works at his drawing desk in the early-morning hours, to the sound of rummaging wild boar and badgers, who come from the surrounding forest seeking out shiitake mushrooms and fallen chestnuts.
TOUR SCHEDULE
WEEK ONE
WEEK TWO
July 9 –
Melimimi
– Review + Activity: Maze