Beloved, bestselling author of Amish fiction, Wanda E. Brunstetter takes readers on a journey in 1850 along the California Trail.
Only the brave—or foolhardy—would attempt a cross-country journey late in the season. Three wagons meet up in Independence, Missouri, in April 1850, and their owners decide to keep forging ahead despite many setbacks and delays. December finds them in the Sierra Nevada Mountains when a sudden snowstorm traps them, obscuring the trail.
Cynthia Cooper is traveling with her mother and the man she has promised to marry. But as Christmas is upon them and they are hunkered down in a small cabin, she is forced to reevaluate her reasons for planning to marry fellow-traveler Walter Prentice. When a widowed father heading to a California ranch and a gold prospector both show an interest in Cynthia, she weighs her dreams for marriage alongside her responsibility to care for her mother. Can love win over her timid heart?
Surprisingly enough, The Christmas Prayer is my first historical novel of Wanda E. Brunstetter. As Christmas is upon us, this came at the perfect time to cuddle with a comfy blanket and read.
As The Christmas Prayer is a novella, it's a great size for a quick read! What a sweet story of the unexpected and finding strength in prayer.

Wagon train, winter storm, a cabin in the woods for shelter, Christmas approaching, an intended marriage, how will this Christmas bring our characters the shelter and peace in their hearts they each sought? Engaging as it is filled with an easy read storyline with a bit of a mystery, I do find due to its size, I'd close the story wishing for more. There will be complete closure for our characters and readers in terms of storyline. However, because it caught my attention from the start, I wish the characters were further developed, and in some areas, increase the complexity factor. And since it is a novella, it does work nonetheless.

I must say the message of seeking God's plan and one's heart, discerning it all ties it together flawlessly. In all, The Christmas Prayer speaks to our hearts through a story, and with the pretty pages too, it'll make a great gift any time of the year.



Disclaimer: I received a copy of this book from the author/publisher. I was not required to write a positive review, and have not been compensated for this. This is my honest opinion.
For my review policy, please see my
Disclosure
page.
TO PURCHASE A COPY*
ABOUT THE AUTHOR


New York Times bestselling and award-winning author Wanda E. Brunstetter is one of the founders of the Amish fiction genre. She has written close to 90 books translated in four languages. With over 10 million copies sold, Wanda's stories consistently earn spots on the nations most prestigious bestseller lists and have received numerous awards.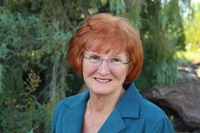 Wanda's ancestors were part of the Anabaptist faith, and her novels are based on personal research intended to accurately portray the Amish way of life. Her books are well-read and trusted by many Amish, who credit her for giving readers a deeper understanding of the people and their customs.
When Wanda visits her Amish friends, she finds herself drawn to their peaceful lifestyle, sincerity, and close family ties. Wanda enjoys photography, ventriloquism, gardening, bird-watching, beachcombing, and spending time with her family. She and her husband, Richard, have been blessed with two grown children, six grandchildren, and two great-grandchildren.
Try this Exclusive Bonus Recipe Found Inside the Book!
Cynthia's Fried Apples
Instructions:
Without peeling, quarter as many tart apples as you would like. Lay apples close together, skin side down, in frying pan with salt pork fat or butter. Cover until well steamed then uncover and brown both sides, turning and watching closely to prevent burning.
GIVEAWAY
To celebrate her tour, Wanda is giving away a grand prize of a $25 Amazon Gift Card and a free copy of The Christmas Prayer with an autographed book plate inside!!
Be sure to comment on the blog stops for nine extra entries into the giveaway! Click the link below to enter.
TOUR SCHEDULE
Click on the banner below for the full tour schedule and for more chances to win!
*NOTE:
This post contains affiliate links.