Let's welcome back Jill Kemerer to Just Commonly!

About this time in February, I usually get a tad stir-crazy. I live in northern Ohio where winters last a solid five to six months. I crave sun on my skin. A reprieve from sweaters and snow. I want…a vacation. Somewhere warm and lovely.
Who's with me?
But, Jill, it's expensive, and I have responsibilities. I can't possibly get away!
What if you could escape into a tropical paradise? And this warm wonderland has no mosquitoes, delayed flights or high price tags. I'm talking about slipping into a fictional getaway—a romantic comedy type of getaway. One that will leave you smiling, laughing and swooning!
Get ready for ten weeks of romance
in the Bahamas

with a new series brought to you by some of the best authors in the inspirational and sweet romance genres…
Ten top authors of sweet or inspirational romance are bringing you a new novella each week!
Okay, I like the thought of a virtual vacation, but what's this Resort to Romance series about?
It's Matchmaking Week at an all-inclusive resort on a private island in the Bahamas. Each guest has been expertly paired and is here to enjoy one full week with their match. While there's no money-back guarantee on the paid trip, the participants are guaranteed to find love!
Matchmaking Week? What's up with that?
Ginny and Goldie Sterling are eccentric, wealthy, elderly, spinster twins. They own Joy Island and aren't afraid to use their matchmaking skills to benefit others. They hired experts to match the singles who applied to take part in Matchmaking Week. These ladies have strict rules, too. No cells, no sex, no switcharoos! They are determined to help singles find their soulmates.
Romantic comedy? I'm not sure...
I hear you. What one person finds hilarious, another finds ridiculous. No one is trying to be a stand-up comedian here. All of the stories are clean and wholesome with no cussing or sex. These are light-hearted stories sure to delight you!
How much is this going to cost me?
All ten books are available for preorder on Amazon. My novella,
A Meddled Match
, kicks off the series and went on sale yesterday! You can buy it for only $0.99! Each novella is available for only $0.99 until one week after their release date when the price goes up to $2.99. Preorder the full set now!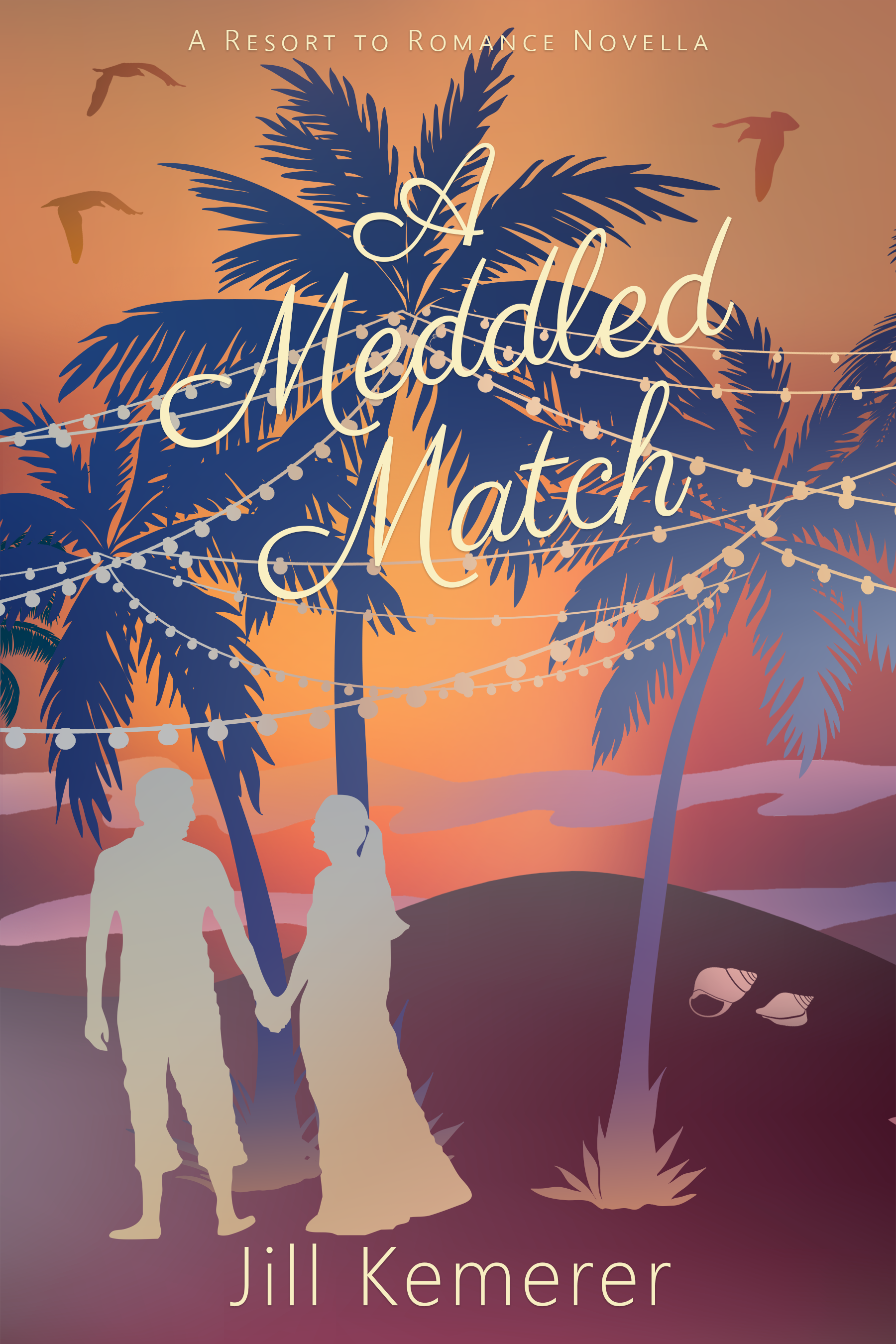 A MEDDLED MATCH
Gavin Sterling wants no part of Matchmaking Week, but his eccentric great aunts insist he fill in for a no-show or he won't have a chance at inheriting their island resort. Surprisingly, his match intrigues him. Mollie is blunt, sassy, and best of all, has no idea he's the son of a billionaire.
Mollie Macomb needs a relaxing vacation without the dating drama. A relationship with Gavin would never work in the real world, anyhow. He's a gorgeous businessman. She's a quirky failure. But even the unlikeliest couple can find love during Matchmaking Week…
*
Thanks so much for hosting me today, Just Commonly!
Thank you, JILL for stopping in! I'm looking forward to more stories from you!!
A little about Jill:
Jill Kemerer is an author and freelance writer. A multi-published inspirational romance novelist with Harlequin Love Inspired, Jill also writes nonfiction books, blogs, and articles. Her essentials include coffee, M&Ms, a stack of books, her mini-doxie, and long walks outdoors. She resides in Ohio with her husband and two almost-grown children. Please visit her website, jillkemerer.com, and sign up for her newsletter.
Jill has graciously offer one reader an ecopy of A Meddle Match. Just leave a comment for Jill below and one winner will be randomly chosen to win! Enter by 2/27/2019, 11:59 PM EST.
*NOTE:
This post contains affiliate links.