Olympia, the main character of my novel
All the Greys on Greene Street
, is an artist. Sometimes her art is a delight, and sometimes it's a source of frustration, but it is a constant companion—it is how she sees the world.
That's one the reasons I set the book in the SoHo neighborhood of New York in the early 1980s. It was one of the most exciting creative hubs of the twentieth century.
When artists first started moving into SoHo in the 1960s, it was an abandoned warehouse district known by firefighters as Hell's Hundred Acres. It was dirty and dangerous and desolate, especially at night, when the trucks left and the factory workers went home.
But it was cheap, and enormous windows flooded the industrial spaces with natural light. The lofts were vast—Olympia learns to ride a bike in her family's loft—so artists could work on huge canvases and enormous sculptures, and collaborate with dancers and musicians.
The legendary Pearl Paint was a few short blocks away on Canal Street: six floors, jam-packed with every art supply you can imagine. And there were more than 100 galleries in SoHo, not counting the empty lots where many artists painted or pasted posters right onto the walls.
So it was a great place to make art, to see it, and to be inspired by it. My question was: Where were the kids?
They were there. Not a lot of them; it wasn't the easiest place to raise a family. And yet, I have pictures of kids curled up on a John Chamberlain sculpture and kids drawing in the corner at a gallery opening with a guest list that reads like an art scene Who's Who.
And if a kid was an artist herself, then SoHo was paradise. Kids who grew up there had a very unique, everyday relationship to art. Making art wasn't elite, or pretentious; it was just what a lot of people in that neighborhood did. It was craft-oriented and it was process-driven, and it was normal. Not surprisingly, a lot of those kids kept making art.
By the end of the eighties, SoHo looked very different (again.) Lofts, once abandoned, became valuable. As prices rose, the galleries closed, and reopened in Chelsea. Artists moved—a lot of them to Brooklyn, where I live. The art world, of course, was hit very hard by the AIDS epidemic; many of the brightest lights did not survive that time.
Writing All the Greys was my way of honoring the energy of that place and time, and the people who made it great.
The best compliment I've gotten from early readers is that the book made them want to sharpen that old set of colored pencils, and blow the dust off their watercolors. I like to think that's the spirit of SoHo in 1981, coming through Ollie to inspire you.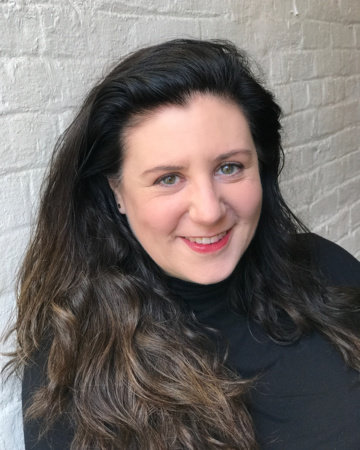 Laura Tucker is a writer and former literary agent who has coauthored books on a wide range of topics, including health, fitness, parenting, and self-help. Her credits include Still Room for Hope by Alisa Kaplan, Standing Tall by C. Vivian Stringer, Shalom in the Home by Rabbi Shmuley Boteach, and Training for Life by Debbie Rocker. She lives in Brooklyn, New York.
CONNECT WITH THE AUTHOR:
website
*Author Photo Credits: © D. Crowell
Publisher:
Viking Books for Young Reader
Release Date:

June 4 2019
"A dazzling debut novel about resilience, courage, home and family."–Rebecca Stead, Newbery Award-winning author of When You Reach Me
SoHo, 1981. Twelve-year-old Olympia is an artist–and in her neighborhood, that's normal. Her dad and his business partner Apollo bring antique paintings back to life, while her mother makes intricate sculptures in a corner of their loft, leaving Ollie to roam the streets of New York with her best friends Richard and Alex, drawing everything that catches her eye.
Then everything falls apart. Ollie's dad disappears in the middle of the night, leaving her only a cryptic note and instructions to destroy it. Her mom has gone to bed, and she's not getting up. Apollo is hiding something, Alex is acting strange, and Richard has questions about the mysterious stranger he saw outside. And someone keeps calling, looking for a missing piece of art. . . .
Olympia knows her dad is the key–but first, she has to find him, and time is running out.
WEEK ONE
June 4 –
Just Commonly
– Author Guest Post: The Art Scene in NYC from 80s to the Millennium
*NOTE:
This post contains affiliate links.